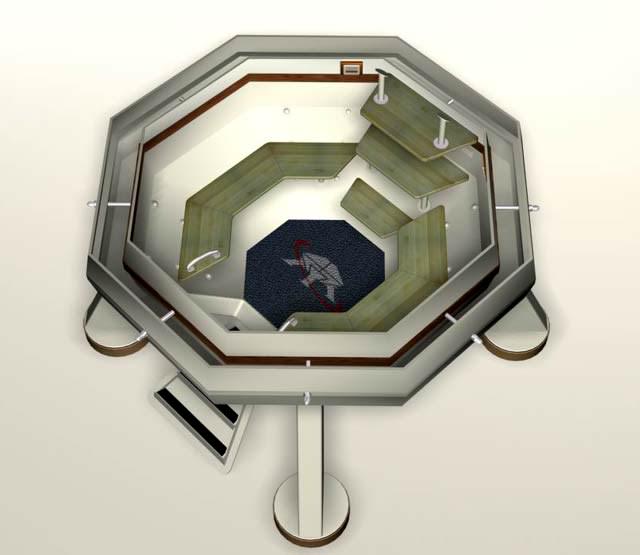 Standard Configuration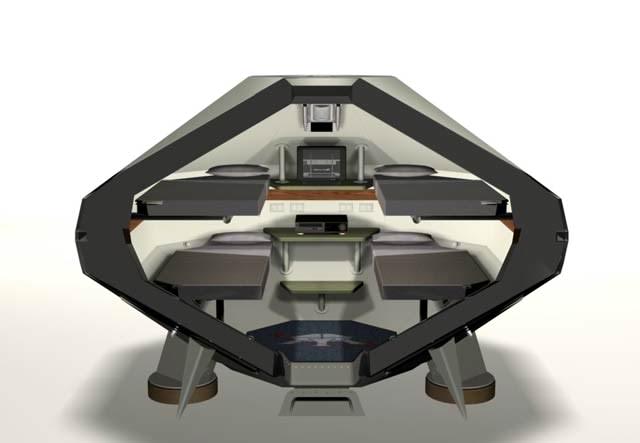 Dormitory Configuration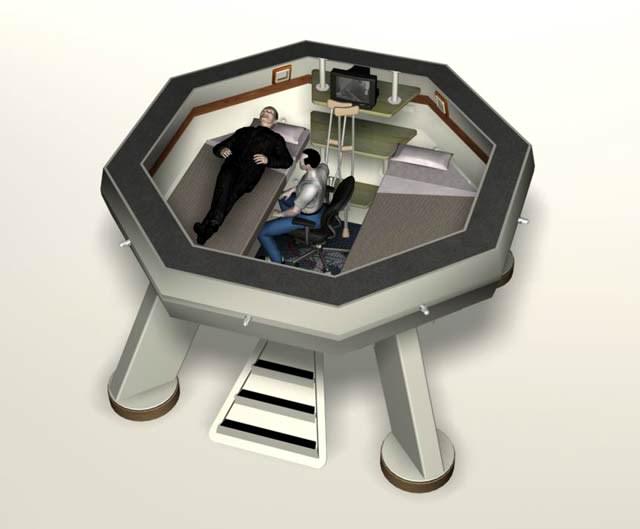 Medical Configuration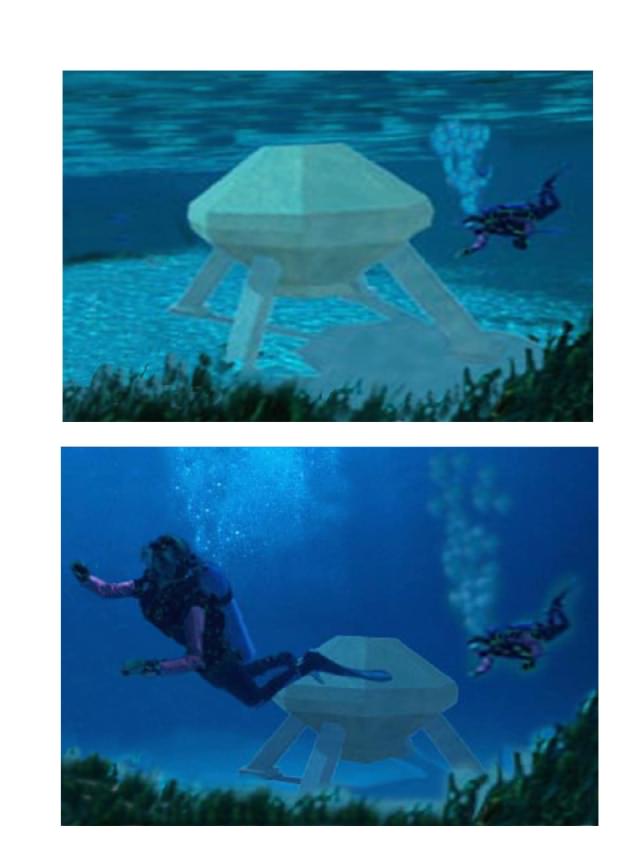 Underwater Configuration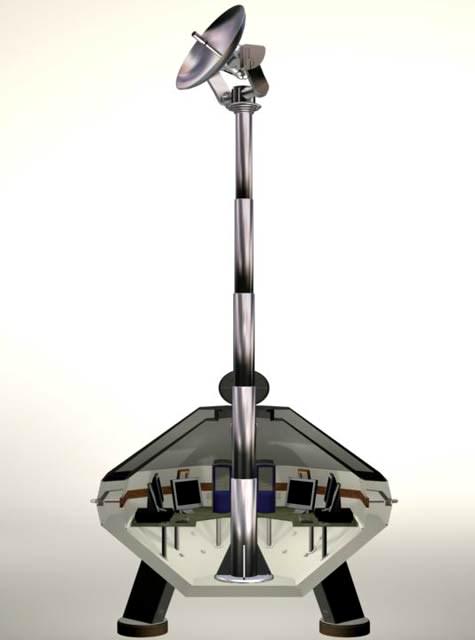 Communications Configuration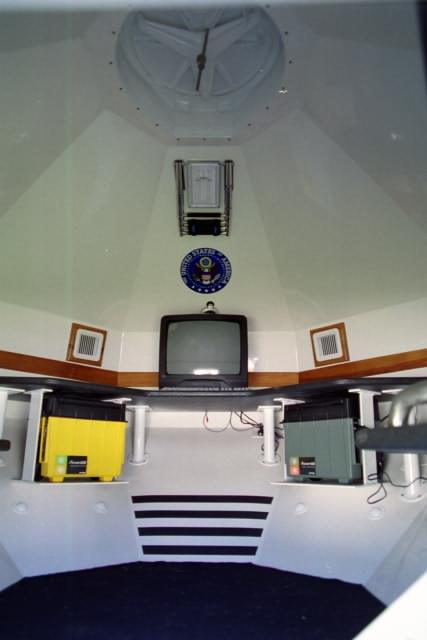 Interior view with escape hatch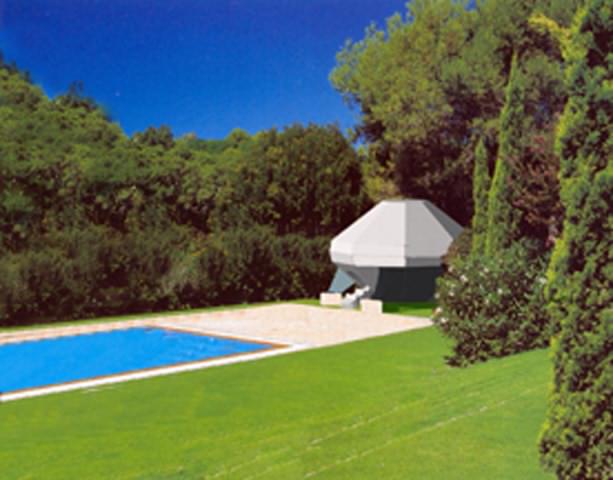 Doubles as a sauna, guest house, pool house, playhouse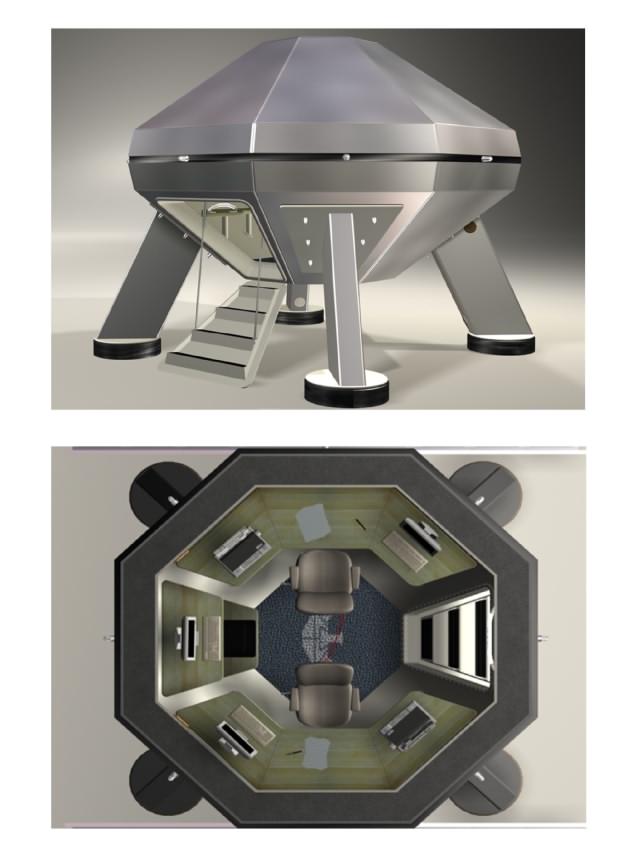 Security Bunker or Office Structure
Protect yourself today with the latest in bunker technology.
"This is not only an innovative piece of military equipment, but also an incredible weapon against natural disasters" General Erik Shinseki, Chief of Staff of the United States Army, Washington D.C.
With this auction you get:
Guardian Bunker (standard configuration) equipped with:
Induced forced air system moved by a dual turbine system that changes the inside air every 60 seconds
A portable potty
A powerful ventilation system
Lighting 12 & 110
One Battery Pack
First aid kit
TV and VHS
One exterior camera
Manual door
Optional Equipment Include:
The Guardian can also be set up in one of the following configurations: Office, medical, communications, dormitory, underwater and underground.
Bio-chemical filters
Heat/air conditioning
Escape Hatch and Ladder
Battery Bank
Electric Automatic Door
Cameras
Video, and surveillance equipment
Bunkers can also be made totally self-supporting by mounting a generator or solar panels and a battery bank along with along with water and fuel tanks on the four steel supports.
Shipping:
Shipping will be From Miami Florida to final destination at $2 per mile one-way. Bidders will be responsible for all shipping costs.
On-Site Requirements:
Bidder is responsible for the unloading of the bunker at its final destination, a crane from the surrounding area can do this job. Estimate the charges at $85 per hour for a minimum of 4 hours. as long as the installation has easy access.
If you plan on hooking up utilities and anchoring the unit, we recommend you hire a local licensed general contractor prior to installation. We can send all the plans so that the foundations and floor will be ready with all necessary hook ups, cable, phone, 110 volt, for an immediate installation once unit arrives.
Note on Flooding and Hurricanes:
If you plan on purchasing one of these to ride out a hurricane is not supposed to be installed in high flood prone areas or ocean front. For example, New Orleans is said to flood at over 18 feet if a hurricane comes in, under these circumstances nothing else but evacuation will work.
If the main use is for storage, play houses, guest houses, vaults etc they can be installed anywhere.
Payment Requirements:
A $2000 refundable deposit required within 48 hours of auction end. Balance due before shipment.
"This is the perfect safe structure for perimeter security and surveillance around airports, nuclear plants, prisons, embassies, or just high security installations where terrorist may strike or in hostile territory" Howard Rock, Security Advisor, NY

Tell us what you think of The Guardian
---
About the Guardian:
The GUARDIAN by U.S. Bunkers, Inc. of Miami Florida has been under development for the past 2 ˝ years A Monolithic structure made of fiberglass, reinforced concrete, steel rebar and US Bunkers own mix of polymer fibers.

The Bunkers are available in multiple configurations, self sufficient to suit a different array of lifestyles including hardened office structure, secure dormitory setup, hardened medical center, and underwater shelter. Their lifespan is measured in centuries instead of years, and they are practically maintenance free.

Guardian is an immediate, secure, weather safe armored structure. The all fiberglass interior is designed to accommodate 6-8 adults comfortably. These bunkers have a primarily military purpose but can be deployed immediately before disaster strikes.
---
About the Creator/CEO:
Jorge Villa, a University of Miami graduate in Mechanical Engineering with majors in Civil and Industrial Engineering, has developed what he calls the Multi Purpose Platform (MPP) Bunker. He introduced the latest model, The Guardian, at the Association of the United States Army Show in Washington D.C. in October. It was set up as a working security and surveillance unit (complete with camouflage exterior) that, apparently, was a real showstopper. According to Villa, the watertight and bulletproof bunkers "have been carefully designed to deflect debris and projectiles from any and all sides."
---
About the construction:
The bunkers
are made of Fiberglas, steel, reinforced concrete, rebar, and U.S. Bunker's own mix of polymer fibers. The monolithic structures are 12 inches thick at the center strength ring, manufactured with no seams or joints, and weigh in at 13-15 tons, yet they are portable.
The bunkers come equipped with an induced forced air system moved by a dual turbine system that changes the inside air every 60 seconds (bio-chemical filters and heat/air conditioning are optional, as are cameras, video, and surveillance equipment). They can be made totally self-supporting by mounting a generator or solar panels and a battery bank along with along with water and fuel tanks on the four steel supports.
A portable potty, powerful ventilation system, lighting 110, battery, first aid kit, TV, VHS, one exterior camera , and a manual door are considered standard equipment.
Beyond the obvious military/government applications, Villa sees the potential for the bunkers to be deployed either before or immediately after natural disasters strike as field hospitals (the Fiberglas interior can be sterilized in minutes), distribution centers, communications hubs, and any other emergency needs. They can also be used as arctic and underwater research/exploration modules.
Interior configurations include office set-ups and dormitory-style sleeping quarters.
Take advantage of this Auction - The Guardian retails for $50,000
They could be fun backyard playhouses (or even guest bungalows), but at $50,000 a unit, they won't be standard suburban fare for a while. "T
he price is a bit high right now," Villa says, "but like everything else – with time and fabrication innovations – the price will come down."
By the same token, $50,000 doesn't seem like such a high ticket for a structure that could serve as full-time emergency medical centers and even housing in underdeveloped regions around the world. The U.S. Bunker Web site focuses primarily on military/government uses, but there is potential for much wider (and humanitarian) applications.
---
Specifications:
Interior diameter/width: 9 feet
Interior height: 6 feet 4 inches
Interior space: 240 cubic feet
Exterior diameter/width: 11 feet



Exterior height: 7 feet 6 inches
---
Instructions For Bidding

In order to maintain the integrity of this auction, each bidder will be required to have their eBay ID identified in order to bid.
1. Establish an eBay Account

2. Get ID Verified - cost $5. This will insure to us that you are the owner of your eBay ID and is also required by eBay for all purchases over $15,000.

3. IwillSELLyourSTUFF will put you on the allowed bidders list and send you email confirmation.

4. Bid on the auction. Go to the bottom of this page under "bid" and make your offer.

5. Bidder will be required to pay a $2000 Fully Refundable Deposit after auction end. PayPal, Check or Money Order.
Bid on your Guardian Today!